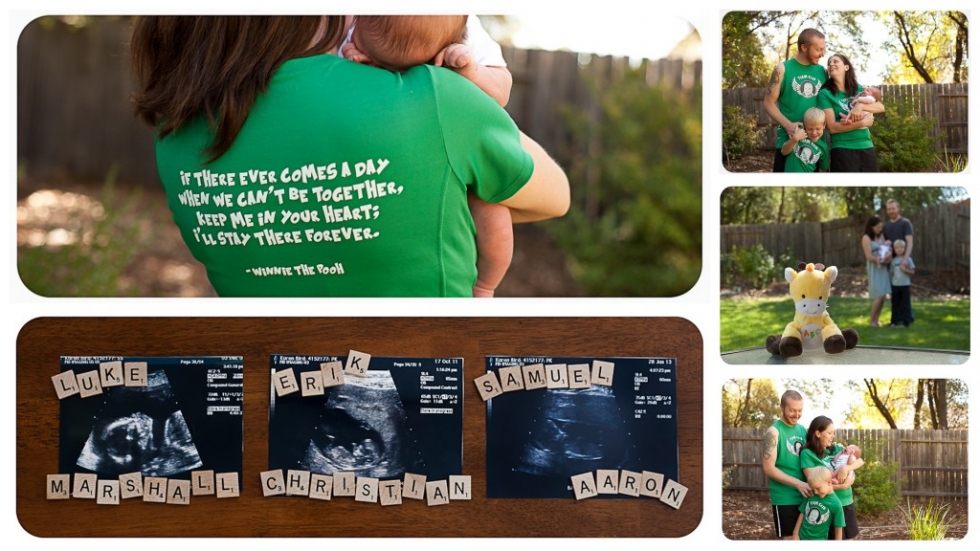 I am not even sure how to tell this story or share what got me to this point. All I know is there was a lot of tears country wide and a lot of reflection. I have a story to tell you so a grab tissue.
Erik Christian Bird was only 4 1/2 months old when he was taken to heaven on a sunny afternoon. I hadn't met him… I actually hadn't even met his 5 year old brother either. I use to work with his parents and we were friends "back in the day" reconnected on good ole facebook. I remember getting on facebook early one morning before my little guys were up. I saw this cute picture of my friend Karen's baby smiling away. I thought I'd say something about the picture since I always love when people comment on pictures of my kids. I didn't read any captions I didn't really "see" anything I was just there… in my own world. Later that morning while I was nursing my 6 month old son I was back on fb looking around and then the realization hit me. Erik had passed away. Quickly I checked what I had to wrote to make sure it was appropriate and not cold since clearly I hadn't paid attention in the first place. I just cried for them… just cried and I cried and I selfishly got to hold my baby and kiss him. I can't even describe the sorrow I felt. Having a small baby myself… knowing this family… it was really hard for me. Later I got a call from a friend and she was sobbing & I knew exactly why. We cried & prayed together. We wept for this family. We actually decided to pray for them for 1 year that God would bless them with another baby. Now we knew that another baby would not bring Erik back… but we both felt it would show God' lavish love for them.
In the meantime the "fixer" in me wanted to fix this. I had to do something to help ease their pain. You kind feel like if you hurt enough for them that some of the pain will leave them and you can bare it too, but being a parent I know this could NEVER be the case. I can't imagine the pain they were in.
God really tugged at my heart to do something for them. I couldn't figure out what though. I use to like to write in journals and knew Erik's dad liked music. I thought maybe a couple journals would be nice… they could reminisce, vent… just treasure every thought they have of Erik. (This is where is gets awesome for a minute) So I went out to find the perfect gift but I was pressed for time. I found Sean's journal right away but I couldn't find the right one for Karen. None felt right. Finally I found one that had little encouragement's through out the book. Quotes & Bible Verses that kind of thing.  I could tell it was for a person grieving…. and thought it was as good as any. I took it to the Bible book store counter and she offered to gift wrap it for me. She started to wrap it and I actually asked her to stop because I wanted to write in it & I had forgotten that. If she wrapped it wouldn't have seen God's amazing hand in this all.  I got home and went to wrap up both journals and looked at Karen journal more closely since I was rushed earlier. Right before my eyes I was reading the inside cover of the journal: a letter from one grieving mom to another. This author had lost her son and journaling helped her through. YOU-HAVE-GOT-TO-BE-KIDDING-ME!!!!! GOD IS SUPER DUPER AMAZING! I did not see any of this before. Oh sure it looked planned and it was- just not by me.
It was a mad dash to get the journals shipped. I really wanted them to have them in time for Erik's celebration service so that they could use it there or journal afterwards but it was going to be a tight schedule. I prayed and prayed they would be there in time… basically had to get their next day without paying the next day rate. I was nervous all day for how they must be feeling and if my gift would get there in time… also was it super lame of me to send a gift at time like this. That night I got a message from Karen saying they came home from the celebration service and there were the journals for them & she thought writing might help and thanked me! AMAZING- once again!
The next couple months were still really hard on me. Karen & Sean were such a testimony to their faithfulness to God yet being transparent about their pain. I remember on particular post Karen said she missed kissing Erik's soft cheeks. Here we are a year later and I still think about those word EVERYTIME I kiss my little Carters cheeks. I'd hold him and squeeze and just cry and cry for them. Thankful for all the minutes I had with my little guy but feeling a little guilty at the same time.  I can't really say what their situation did to me. It changed me… for the better I'd like to think. This little boys short life touched me so much even in death. He taught me so much without even meeting him. I struggled with the "why's" as I am sure every did… What role did God have in this? It caused me to really dig and learn more about God and seek His comfort. Today I feel like I have a different understanding than I did a year ago & I know more than ever God's plans for us are for good, for us to prosper and not of evil.
Now jump back to about 10 months ago. Karen announced to everyone surprise that another little baby was on it's way. I cried happy tears that day… called my friend (the same one who wept with me the day he passed) and was yelling at her on her voice mail. Funny how some generations (mine) treat voice mail like the good old answering machine, as if we talk loud enough people will be able to hear us through a silent phone & answer :). I knew at that moment I wanted to do newborn pics for them whenever this sweet bundle of joy and blessing arrived. I approached them closer to her due date and asked if they would be interested.  Come to find out Karen told me that was the biggest regret: they didn't get family pictures done while Erik was still with them. As soon as I read that another idea was born. The Erik Bird Project. How many parents regret not splurging for newborn pics not knowing how short their precious lives would be. No one plans for loss & truthfully most of us avoid this awful pain and reality. So how am I going to help? I am going to give away 2 newborn sessions a year. One in the fall & winter and one in the spring summer! Out right free session. It is just too important to put a $$ sign on those memories.
How do you apply?
Just email me at JessicaBowersPhotography@gmail.com for a submission form.
Who qualifies?
ANYONE who has had a baby. Grief does not discriminate. However due to the nature of these sessions I can not grant every session & I might have to pass on from time to time due to my life schedule but I will do two a year. You must apply to get a chance to chosen for this great project. I am already praying for the families that God brings to me to thru this program. I pray that they are families that need this blessing. (I ask if you *can* afford a session maybe leave this open for someone to win who maybe can't… but that doesn't really play into who is granted the complimentary session. Just a courtesy request 🙂